During the trip, Governor Holcomb and Indiana Secretary of Commerce Jim Schellinger met with Hungarian government officials, including Prime Minister Viktor Orbán, to discuss similarities between the two states and to outline a vision for future collaboration. To affirm this new partnership, the Governor and Hungarian Minister of Foreign Affairs and Trade Péter Szijjártó signed a formal memorandum of understanding, establishing a framework to encourage economic cooperation across government, universities and research institutions, and the business community in order to advance innovation, foreign direct investment and trade.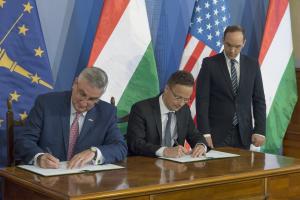 "This was an incredibly successful trip to Hungary," said Governor Holcomb. "I'm grateful for the warm hospitality we received from Prime Minister Viktor Orbán, Minister of Foreign Affairs and Trade Péter Szijjártó, Minister of National Economy Mihály Varga, and the entire delegation of Hungarian officials and business leaders.
"The memorandum of understanding I signed launches a new Indiana-Hungarian working group to grow our communities and our economies together. And, in the name of Hoosier hospitality, we also extend a welcoming hand to Hungarian businesses to visit Indiana." 
Indiana, which was the first state to establish such a relationship with Hungary, shares many economic similarities with the country in addition to having a nearly identical size, population and GDP. Both Indiana and Hungary, for example, are centrally located, providing an ideal location for businesses to access customers across North America and Europe, respectively. Indiana and Hungary have each worked to establish a pro-growth business climate through economic policy, such as reducing corporate income taxes, and they share strengths in key industries, including automotive, agribusiness, life sciences and technology.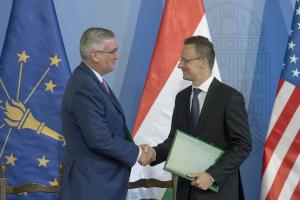 Additionally, the Governor and Secretary of Commerce met with leaders of Hungarian chambers and associations, including those dedicated to the agriculture and automotive industries, as well as with executives of businesses operating in Hungary, including Allison Transmission, Argint International, Eli Lilly, General Electric, Leopoly, Holografika and Remy International to share Indiana's story and the benefits of doing business in A State That Works.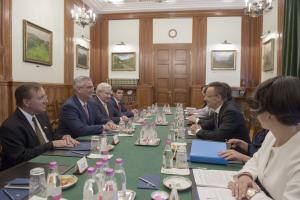 Governor Holcomb and Hungarian officials also discussed opportunities to increase collaboration through culture and education, focusing on the people of Indiana and Hungary. As part of this effort, the Indiana delegation met with Professor László Lovász, president of the Hungarian Academy of Sciences, which is a public body dedicated to cultivating research and science as well as ensuring the development of Hungarian language and cultural studies. Indiana University is home to the only comprehensive Hungarian studies program in North America and has provided Hungarian language instruction since World War II.
"This was my first trip to Hungary and as we deepen our economic ties with our new European friends, I know it won't be my last," Governor Holcomb said.

 
NOTE: More photos are available here. A copy of the Memorandum of Understanding (MoU) between the Indiana Economic Development Corporation (IEDC) and the Hungarian Ministry of Foreign Affairs and Trade is available here.  
About IEDC
The Indiana Economic Development Corporation (IEDC) leads the state of Indiana's economic development efforts, helping businesses launch, grow and locate in the state. Governed by a 15-member board chaired by Governor Eric J. Holcomb, the IEDC manages many initiatives, including performance-based tax credits, workforce training grants, innovation and entrepreneurship resources, public infrastructure assistance, and talent attraction and retention efforts. For more information about the IEDC, visit www.iedc.in.gov. 
Source: IN.gov