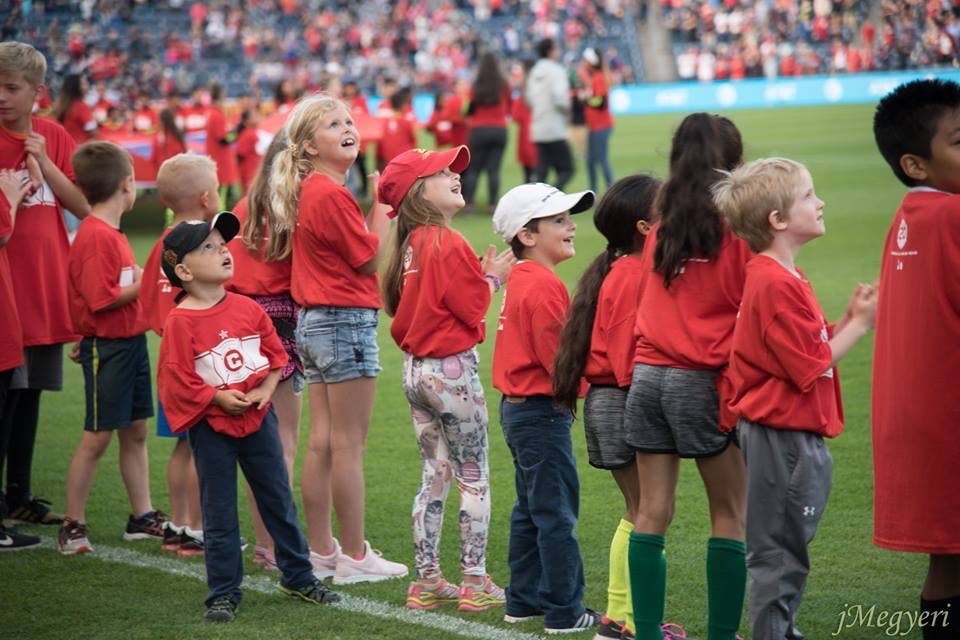 Photo: József Megyeri
The Hungarian Club of Chicago held its 3rd Hungarian heritage day at Toyota Park, this past Saturday, on June 9th. This time around Chicago Fire played New England Revolution.
It was not a coincidence, however that the organizers picked this particular game, in addition to the popular star of Chicago Fire, Nemanja Nikolic, there was another Hungarian legionnaire, striker for New England Revolution, Krisztián Németh. It was once again, a great feeling to wave the Hungarian flag to cheer on both players from the stands of Toyota Park.
The game ended in a draw (1-1). The initial stages of the first half were very exciting for us, as Nikolic performed a wonderful header; unfortunately, it missed the goal only by an inch. Sadly, soon after this, precisely 12 minutes into the game, he suffered an injury and the coach decided to pull him off the field with a substitution.
Krisztián Németh stayed on the field until the 70th minute, when the coach of New England Revolution also substituted him. He showed great skill and performed some challenging tackles and interceptions but failed to score a goal.
The first half ended in 0-0.
In the second half, another Chicago Fire favorite, Bastian Schweinsteiger scored a lead for the team. The goal came as a wake-up call for New England Revolution and with renewed strength; they managed to score an equalizer, exploiting the mistake made by Fire's goalkeeper, Richard Sanchez.
The Hungarian turnout was great for this event, with around 70 participants, whom as now tradition dictates held a tailgating event in the parking lot prior to the game in order to set the mood by serving delicious hot-dogs and cold beer to their guests.
A few children from the Csík Hágó Hungarian School had the chance again to step on the field prior to kick-off and sing the national anthem with the players.
After the game, I had a chance to meet Krisztián and ask him a few questions. He told us that he feels great in New England and the mood and style of the team suits him well. He is looking forward to utilizing his skills learned in Sporting City Kansas, to further his career. At the end of our conversation, I asked him if there are Hungarian supporters in Boston, who show up to his games. Krisztián told us that indeed, there is a large Hungarian community in Boston who frequent his games and they always manage to warm his heart, and give him strength. His wife is also a great source of that, while is parents are showing their support from Hungary.
Unfortunately, due to Niko's injury, we were not able to ask him any questions but he was able to sneak out onto the hallway to thank us for the support and express his gratitude towards the Hungarian Club of Chicago, for organizing these events on a regular basis. He asked me to convey his message to his supporters:
"I would like to thank everybody who came out today to support us, I am as always very grateful to have such an amazing Hungarian community here. I am very sorry for what happened with my injury, I did not have an opportunity to meet my fans as I usually do after games. I will make sure that next time, I will not miss the opportunity."
The 4th Hungarian Heritage day is scheduled to happen October 28th, when Fire will play D.C. United, where another Hungarian, Zoltán Stieber plays as a midfielder.
Until then, we wish Niko a speedy recovery and many more successes in the season!
Source: Chicago Tribune